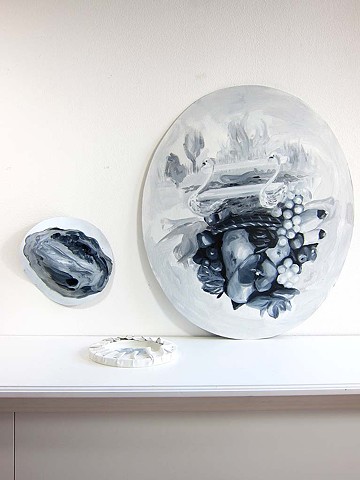 I am a Dutch-Canadian visual artist working primarily but not exclusively in the tradition of figurative painting. I construct my paintings, painting installations and paintings on photographs using personal signs and symbols like in Jan Van Eyck's Arnolfini Portrait but in my own idiosyncratic way.
I paint (fragments of) places, landscapes and objects, and try to employ these as metaphors for vulnerability. Recent-past work often materializes into a dreamscape.
I am interested in how I can articulate fluctuating vulnerable, ambivalent, in-between states not only in the narrative content of my work but also with oil paint… a medium that is messy, sometimes difficult, or disappointing, but simultaneously very sensual, seductive, feisty and fluid - like life itself.



Specific texts on each different body of work can be found underneath the images on the portfolio pages of each seperate series.